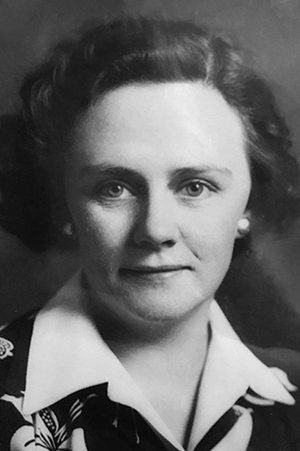 Bernadette McCann House become a reality due to the generosity of Harry and Bernadette McCann's family. Upon her death, Bernadette McCann requested that $10,000 from her estate be used to support women in the community. These funds were devoted towards a down-payment for a home, which would provide a safe place for women and children experiencing abuse. This home was named in her honour.
After becoming incoporated during the Fall of 1978, Bernadette McCann House welcomed its' first client into the Agency in 1979.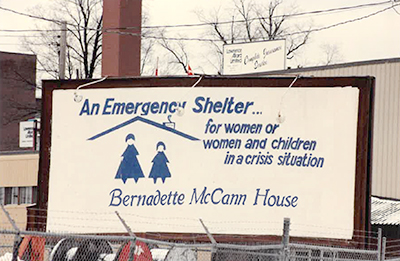 In 1995, the Ministry of Community and Social Services began a restructuring process, which resulted in the decision to have only one shelter in Renfrew County. This restructuring provided an opportunity to create a new organization, and with that a new name - Women's Shelter & Support Services. Over the next ten years, this newly created organization operated under both names, in hopes that it would be less confusing for those who needed access to the services provided by the Agency. In 2007, the Board of Directors chose to return to the original name of Bernadette McCann House.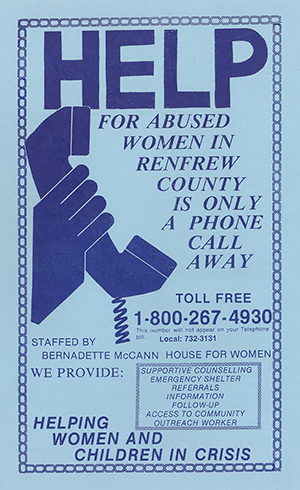 The Agency is 100% funded through the Ministry of Community & Social Services, and the Ministry of Children, Community and Social Services (2018). At this time, there are additional funds received through the Ministry of the Attorney General, however these are not annualized.
The Agency is governed by a volunteer Board of Directors, consisting of women and men, who believe in working for change that will end abuse. There is a maximum of fourteen members, involved in three committees; Governance, Resource Risk Management, and the Executive Committee. Board members are nominated to their positions during our Annual General Meeting held in June and remain with the Agency for a four-year term.
We employ approximately 20 full time staff, and a compliment of relief staff. In addition, our services are supported by a dedicated team of volunteers, who contribute a broad range of skills to our programs.