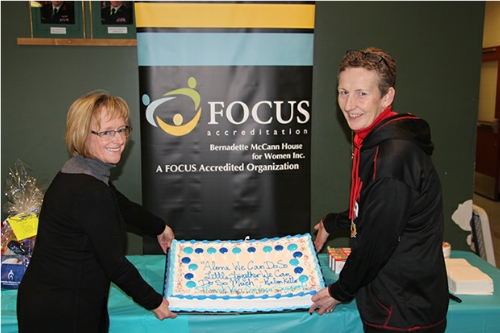 Bernadette McCann House is the first Women's Shelter in Canada to be accredited. By electing to be accredited by FOCUS Accreditation, BMH has voluntarily undertaken a rigorous external evaluation. This demonstrates a commitment to improving the quality of services we provide, and for offering services effectively and in a manner that meets best practice.
Bernadette McCann House has received accreditation for 2012-2016 and 2016-2020
FOCUS was established in 2004 in response to a need for an innovative and robust quality improvement and accreditation program that reflected current successful practices and trends in community-based human service organizations – with a mind to our Canadian culture and expectations.
Using an inclusive process, we sought input from individuals and their families who use different types of community-based human services, as well as board members, staff, community stakeholders – and a wide range of sector experts in accreditation and standards.
The result was an accreditation program with standards and processes that reflected sector best practices as well as Canadian expectations and values. The FOCUS Quality Improvement and Accreditation Program provides organizations with a comprehensive system that helps improve organizational culture and practices in meaningful ways.
The above excerpt is from the Focus Accreditation website at focusaccreditation.org